This is the start of my project of making vacuum diagrams for my W123 Mercedes.
I'm quite confident in saying its rough. VERY ROUGH. Take these with a grain of salt… maybe more than a grain, probably a pound or two would be more fitting.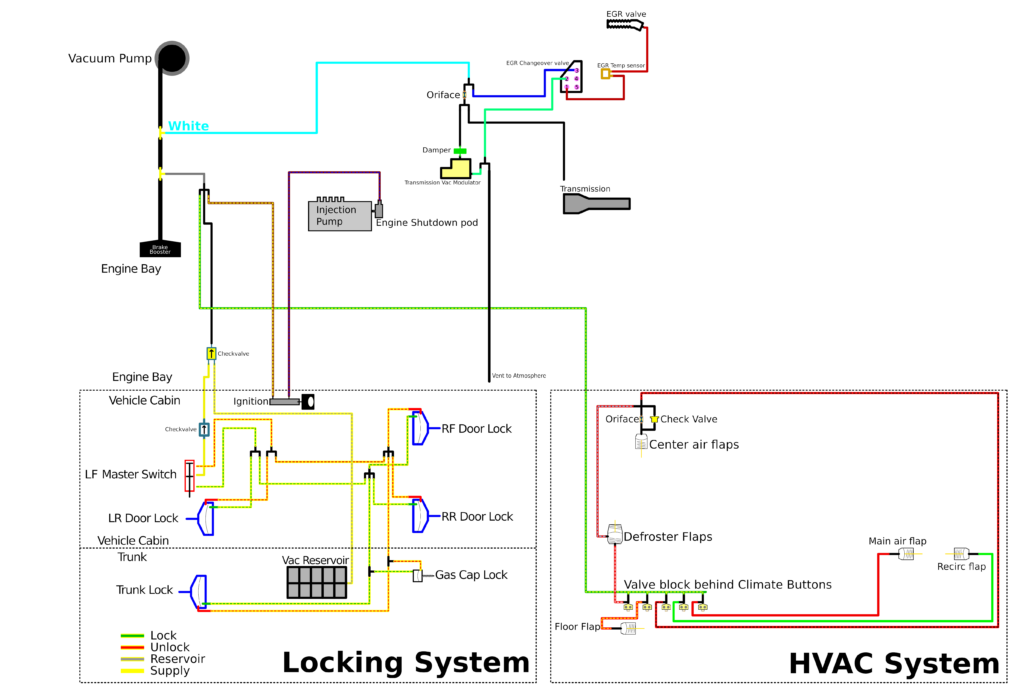 I'm fairly sure my vacuum system on both of my cars has been tampered with extensively, so I'm having to piece this together from looking at other diagrams and chasing hoses to try to determine how it was meant to be.
I've seen many diagrams and they have helped me track down multiple problems, but they all seem to be grainy and hard to read.
So while I realize this is going to take me a long time, I feel it will be worth it. I'm drawing these in Inkscape, so they will be available in SVG format. I will break down each major section into smaller printable images to be used when troubleshooting.
First video on the most common central locking issues I see is right here:
Another way to track down vacuum leaks, as well as some info on replacing the floor flap:
Disclaimer: This may be entirely incorrect. The longer I look at my diagrams the more confused I get. Which proves why this needs to be done, but it also proves why it hasn't been done yet.
I'm fairly confident everything drawn from the firewall back to the trunk in the locking system is correct, but the engine bay and all that is nowhere near complete, I'm going to break the diagram up into pieces, so the locking system will be one part, then HVAC, transmission, emissions, etc in different areas/segments so nothing gets muddled together as far as color codes and such.
Changelog:
July 2023 changed line styles because it was hard to see base color vs stripe color, I'm not sure if the dashed lines look good or will just be confusing.